From October 2019 available – The comfortable dog full body protection bodysuit after OP for dogs with many refinements
VetMedCare: We too are always learning from the many customer and veterinarian feedbacks. The secret of a well-functioning body is to listen to the feedback from customers and partners, understand it and then implement it perfectly.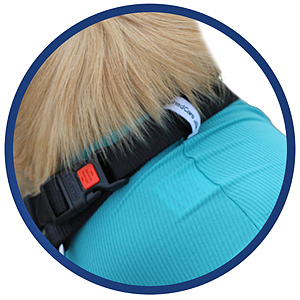 With the NEWly developed VetMedCare dog bodysuit with zipper and 4 legs, several optimizations have now been implemented.
The zipper makes it much more comfortable to put the dog bodysuit on. It also has an undertread (a flap under the zipper that covers the fur underneath) so that no dog hairs are trapped. Wearing comfort: Because the zipper is placed on the back, the dog bodysuit (just like the sewn bodysuits) has a completely smooth belly area.
The test phase of the new dog bodysuits is almost completed. The production is already in preparation. In October 2019 we will start selling the new bodysuit series according to plan.
Examples on our bodysuit test dog with the new dog protection bodysuit with zipper and four legs
The VetMedCare ® OP Bodysuit for dogs is the professional alternative to an annoying neck brace. This full body bodysuit covers and protects the dog's body and is a complete surface covering wound protection (leak protection). This helps your dog to an even faster recovery.
Durable & Running Stitch Protection: The unique weaving process used in the production of the fabric does not allow running stitches (biting, scratching, etc).
Thus the dog bodysuit is durable and reusable. The VetMedCare ® fabric is made of 90% PA (polyester) / 10% EL (elastane). This makes the fabric light, dries very quickly (no hollow fibres) and is very breathable.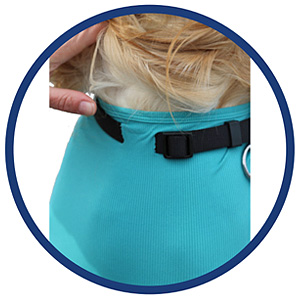 The stretch fabric ensures freedom of movement during all dog activities.
Summary – Facts about the zipper dog bodysuit with 4 runs
This new dog bodysuit makes it even more comfortable to put on
The zipper has an underlap, so that no dog hairs are trapped
For the dog fur care simply open the zipper and brush the fur – it is not necessary to take off the bodysuit
Comfortable wound protection without ruff
Prevents the formation of snowballs in dog fur
As the dog bodysuit covers most of the dog's body, it is also a chemical-free tick protection and supports the healing process in case of skin irritations and allergies
Thanks to the run-resistant material, the additional opening for the male dog can easily be cut with scissors and the leg length can be adjusted individually
Completely smooth stomach area, because the zipper runs along the back
Problem-free urination and defecation
Should be worn very tight and is like a second skin
Ultra fast drying
Washable up to 60
Extract – our dog bodysuits in the shop