Dog Safety Pants – dog pants – like diapers for dogs | help with incontinence, bitch heat, menstruation, etc. | VetMedCare®
The Dogs Safety Pants – can be used as pants in heat, menstruation pants and protective pants / dog nappies for incontinence in dogs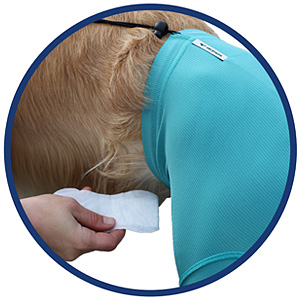 Dog Safety Pants – Help with incontinence as a dog diaper – incontinence pants
Many dogs suffer from incontinence due to age or castration. With incontinence, the dog loses urine, usually without being aware of it. The situation is different with urethral incompetence. There it happens while the dog is asleep or when he is getting up. This is always noticeable on a damp dog bed.
The veterinarian also distinguishes incontinence from urinary dribbling. However, this is caused by other diseases. Which there is also still: With diabetes mellitus or a kidney disease the dog drinks more and therefore has to urinate more (called polyuria).
In such cases, dog diapers are often the solution or the use of VetMedCare Safety Pants for the dog.
Dog Safety Pants – Simple help as protection against pregnancy when female dogs / bitches are in heat
In heat is completely normal for a bitch. According to our observations there is no fixed pattern of heat in bitches – especially not with regard to the first time. The first heat may occur after six months, but it may also occur at nine, ten, eleven, twelve months – or even later.
As a rule, the first heat in female dogs occurs for the first time at the age of about 9 to 18 months.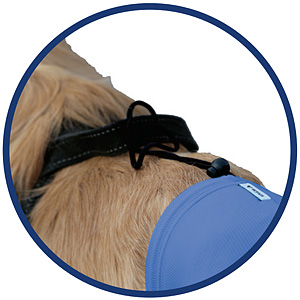 Every female dog has her own cycle. Some run twice, some only once, but others run up to three times a year. Most bitches go into heat every 5-8 months.
The total duration of the heat is about 3-4 weeks. In the first phase of heat the bitch has "bloody" vaginal discharge. However, attracted males are mostly repelled by this.
In the second phase of heat (second 12 days) this discharge becomes clear. In this phase there are a few days when the bitch is "receptive". She is then especially attractive for males and would be suitable for mating. Then special care is necessary to prevent unwanted offspring.
There are various options for contraception:
The VetMedCare ® Dog Safety Pants
Hormonal therapy using hormone injections given to the bitch at five-month intervals.
Sterilization or proper castration: this involves removing the bitch's ovaries and uterus. There will be no more menstruation for good.
Summary – Facts about the Safety Pants
Suitable protector for injuries in the anal area
In combination with a standard merchandise pantyliner also usable in case of heat or incontinence
With cord to fix on the chest harness
Skin-friendly, breathable and ultra-fast drying material
Washable up to 60 °C