Coat care glove | Grooming Glove – practical glove for dogs, cats, horses etc. – almost like a dog or cat brush for fur care by VetMedCare®.
The VetMedCare ® Grooming Glove has two different glove sides for better cleaning the fur.
The rougher glove side "STRONG" is used for cleaning or removing coarse dirt and loose hair. Special bristles are worked into the fabric to achieve a deep cleaning, a massage effect and a circulation stimulation.
The VetMedCare ® coat care glove "Grooming Glove" – simply massage – stroke – groom at the same time
The soft glove side "SOFT" absorbs dust and loose skin flakes from your pet's coat. Very sensitive areas such as head and legs can be combed or groomed very gently with it. This glove side also absorbs moisture and sweat. It's so easy to make your pet's coat shine.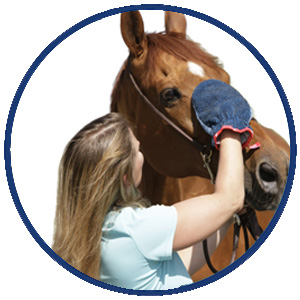 The VetMedCare ® fur care glove can be used for dry cleaning as well as for wet cleaning.
Cleaning the VetMedCare ® Care / brush / glove for fur care
Knock out
Comb hair
In case of heavy soiling – go to the washing machine (up to 60 °C)
With this coat care glove you stroke, massage and groom your pet – dog, cat etc. – at the same time. A care product with fun factor!
Facts Coat care with the "Grooming Glove" – Wellness for your pet and animal
Cleaning of rather short-haired animals
Special bristles provide cleaning and massage
Promotes blood circulation
Gives the fur a beautiful, silky sheen
Stains on white fur can also be removed wonderfully
Hard to reach places are easy to reach
Especially sensitive areas such as joints can be cleaned gently and effectively
Recommended by veterinarians
machine washable (up to 60 °C) and durable