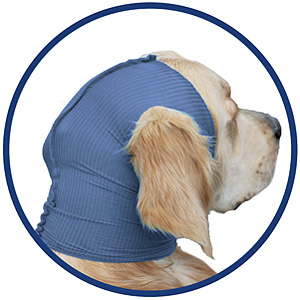 The Safety Tubes or stocking tubes as post-operative protection for CUTTING yourself – gauze bandage, bandage and plaster in one – for hamsters, rabbits, guinea pigs and other small animals
With the VetMedCare Safety Tubes (stocking tubes), small surgical bodysuits for small animals can be cut in no time with sharp scissors.
You simply cut the 1 meter hose to the desired bodysuit length. Then simply cut out the required openings for the feet. Since this special VetMedCare ® fabric is a run-proof, extremely stretchy fabric, this is really very easy. And it is ready for use, the bodysuit for your hamster, rabbit, ferret, guinea pig, etc.
Size
Length
Scope
Example for:

S

100 cm

7-9 cm

Mouse body

M

100 cm

10-15 cm

Bodysuit for ferrets and guinea pigs, tail guard cat, rod guard dog
L

100 cm

16-35 cm

Bodysuit for rabbits, rod protection for dogs
Conical

100 cm

top: 27-30 cm
bottom: 8-10 cm
Swan body
Examples of use on small animals
Optional: Attachment of Safety Tubes as barrels or foot elements on the dog or cat body – with press studs
The snap fasteners are simple and practical. You can use them to easily attach a safety tube to the bodysuit as a leg or tail protector. You can order these snaps optionally. There are 18 pieces or 5 pieces in a package – depending on the size of the button.
Facts – the ideal wound protection (gauze bandage, bandage or plaster) for small animals
Individually cuttable tubular fabric
length 1 meter
Run-proof fabric
Excellent protection of wounds or operation scars from dirt, licking or scratching of the animal
Pleasant wearing comfort due to elastic fabric, fits like a 2nd skin
Hygienic, washable up to 60°C
NO pressure marks
Developed together with veterinarians
Further applications with the Safety Tubes
Protection for the tail
Head protection
Leg warmers can be fixed individually on the dog & cat body (buttons sold separately)
Background information on the VetMedCare ® special veterinary solutions
With the VetMedCare ® brand, we develop special veterinary medical solutions that are mainly – but not only – used after operations. An important goal with the Safety Tubes was to guarantee small pets a pleasant wearing comfort – in combination with safe wound protection. The different bodysuits, tubes and safety pants have sophisticated, field-tested cuts. In addition, the extremely stretchy special fabric offers a particularly high level of wearing comfort.
The development and creation of the OP bodysuits were carried out in close cooperation with veterinarians up to the finished product. With these veterinary bodysuits, an innovative protective and clothing series for animal needs were created.